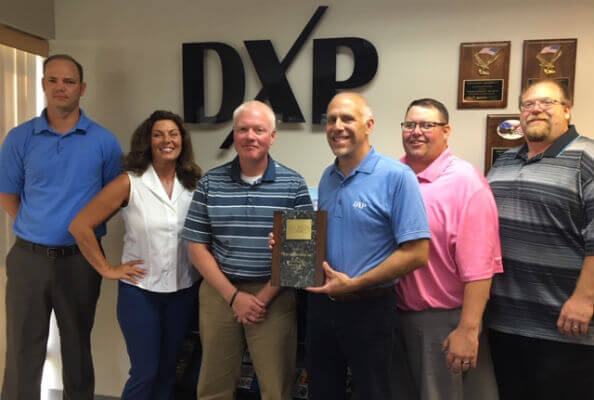 DXP has been awarded a 2018 Spirit of Excellence Award by Hormel Foods for our efforts as one of their top-performing suppliers of the year. Qualifications to meet the award include meeting performance requirements, making on-time deliveries and providing high-level customer support.
DXP was presented with the award at the Des Moines, IA SuperCenter on July 19, 2019, by Jesse Cass, of Hormel Foods Corporate Purchasing. Today we are serving approximately 33 Hormel locations. These locations are serviced by nine different DXP Service Centers covering four different regions.
This is the 8th consecutive year DXP has been presented with this award. DXP is proud to play a key role in helping Hormel bring its products to people all over the globe.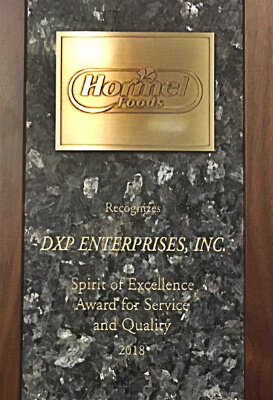 Top image – from left to right is Travis Tim (DXP Des Moines Customer Service Manager), Kendra Burns (DXP Des Moines Sales Professional), Jesse Cass (Hormel Foods Corporate Purchasing), Tim Mausbach (DXP Vice President Operations, North Central Region), Tom Shreckengost (DXP Mason City Sales Professional), Phil Travis (DXP Cedar Rapids Sales Professional).