INDUSTRIAL VENDING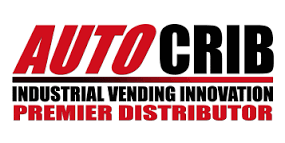 Completely integrated turnkey solution: software, setup, training, service, support – DXP manages inventory in real time. Getting the product you need, when you need it, while cutting costs has never been easier! DXP has partnered with one of the industry's most respected manufacturers of automated inventory control systems, AutoCrib, to bring you the most innovative vending and dispensing solutions on the market.
Innovative software that leads the industry with demand-based ordering
Innovative technology – for faster vends, to vend just about anything
Machine quality you can see
More cost-effective options – at start up and over the machine's life
World-class training and support (as cited by our customers)
Plant tested and proven effective in over 5,000 installations!
Constant innovation to solve problems no one else can
THE BEST OF BOTH WORLDS
DXP offers the broadest product selection in the industry, supplying customers with up to 90 percent of their MROP requirements from a single supplier. DXP goes to the source of the product, eliminating third parties, leveraging its buying power and passing the savings onto YOU.
AutoCrib's automated controls systems allow you to reduce spending, boost productivity, and increase accountability by:
Reducing item usage – eliminates hoarding and shrinkage
Eliminating stock outs – reduced stock outs, freight cost and customer service implications
Reducing purchasing and receiving costs
Reducing overall transaction fees
Lowering inventory investment, increase turns, reduce obsolete inventory and reduces carrying costs
Tracking reduction and inventory issuance
Reducing walk around time
Reclaiming floor space
Turning data into information you can use
Increasing usage of reconditioned tooling
Take our quick ROI test and find out if one of AutoCrib's automated inventory control systems is for you, or call one of our field experts to schedule a Value Management Study to find out which AutoCrib best suits your operation.