The Ideal Computerized Maintenance Management System
DXP's CMMS (computerized maintenance management system) is a simple solution for inventory control, work order management, and preventive maintenance—all at the touch of your fingertips.
DXP has the flexibility to work with customer IT to develop the most efficient supply chain processes and create appropriate interfaces. Typically, DXP will develop a paperless order-to-pay cycle with reporting to be electronically generated and delivered via email.
Customers have the option to utilize DXP's proprietary Chase CMMS as a front-end management system for automated electronic material requisitions. Chase is a web-based platform, so users can access it anywhere with an internet connection.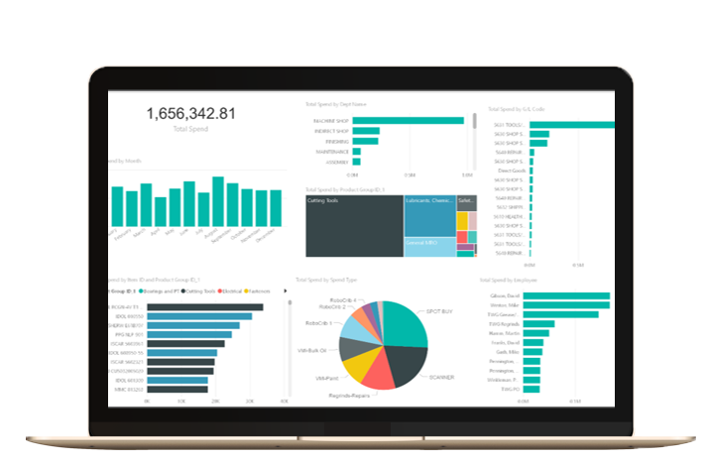 Electronic requisition process
Approval hierarchy
G/L, cost center tracking
Complete audit trails
Web-based reporting
As a CMMS, Chase also has modules for work orders, preventative maintenance, and equipment management.
---
SmartCMMS Features
User-friendly, web-based platform
Electronic requisition process with approval hierarchy
Automated server management & database backup
Comprehensive maintenance operator training
Tracking for warranties, repairs & tool room management
Tooling calibration & reshape management
Kitting & staging process optimization
On-demand customer access to reporting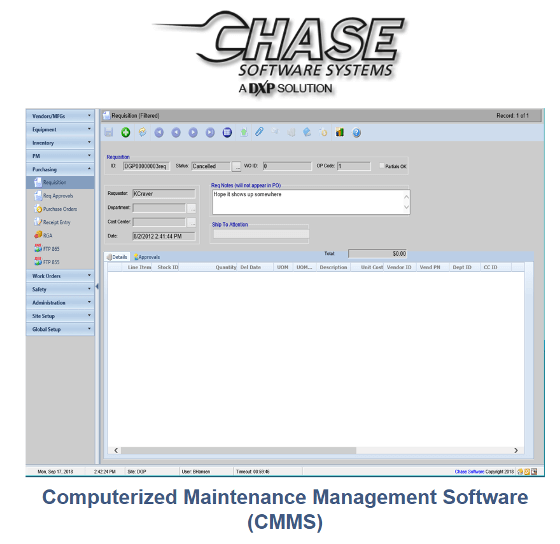 Proprietary Perks
DXP's proprietary inventory, procurement, and CMMS package can be utilized as a front-end management system.
DXP offers Chase CMMS capabilities to our customer's maintenance departments facilitating a single point for PM, work-order, and asset/equipment management. This will link stores and maintenance data into a single system, driving efficiencies and increased parts availability and management.
Transfer of legacy customer data (if exportable to Excel)
Customer ownership of the data within Chase CMMS
Web-based platform (accessed through existing customer hardware)
Electronic requisition process with approval hierarchy (auto PO generation)
Web-based reporting for customer-driven, on-demand access
G/L cost center data tracking with complete audit trails
DXP-Chase server management and database backup
Reporting Capabilities
Each module and screen has unique reporting capabilities available, including 250+ standard reports, audit trails, and specific data for individual records. Easily export reports to Microsoft and other third-party software. Reporting in Chase uses Crystal Report Writer.
---
CHASE CMMS Modules
Inventory
Management of MRO storeroom materials
Purchasing
Provides a paperless purchase requisition system
Equipment
Maintains all equipment-related information
Work Orders
Primary work order management tool
Preventive Maintenance
Automated plant-wide PM program
Vendor
Vendor, contractor & manufacturer details
System Administration
Central point of setup & administration
Safety
Stores electronic copies of safety records