PROACTIVE PUMP HEALTH MONITORING
24/7 online vibration and temperature monitoring device
Automatic device registration on the cloud via cellular interface
Proactive alerts from the Predict-Cloud
Long term storage of trend data including Fast Fourier Transform (FFT)
Affordable & available as a standard option on all PumpWorks Industrial products
Externally powered (no batteries)
Click here to login & view the health of your equipment.
| | | | |
| --- | --- | --- | --- |
| | Predict-PlusⓇ | Goulds iAlert 2™ |  Flowserve Beacon™ |
| PROACTIVE ALARMS Standard | YES | NO | NO |
| Cellular Interface | YES | NO | NO |
| Hardwired to Eliminate Unreliable Batteries | YES | NO | NO |
| Long Term Data Storage in the Cloud | YES | NO | NO |
| Expected Device Life | 5+ years | 3 years max. | 4 years max. |
Always On

Predict-Plus is CONTINUOUSLY monitoring and logging your pump health. 

Vibration

Self-Calibrating Tri-Axial Accelerometer and overall FFT and time waveforms.

Bearing Temperature

Integrated thrust bearing temperature monitoring.

Predict-Cloud

Store and analyze unlimited data on each Predict-Plus enabled device. Securely access anywhere, anytime via internet connected device.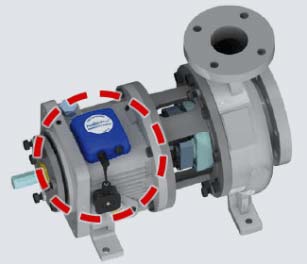 Predict Plus + Predict Cloud
A new product from DXP that continuously monitors vibration in all three axis plus temperature and remotely sends the data to the cloud so proactive action can be taken by the customer to protect the rotating equipment.
Predict-Cloud is a powerful tool in attaining the goal of reducing maintenance spending and increasing MTBR (Mean Time Between Repairs). By proactively identifying detrimental system conditions prior to catastrophic machine failure.
General Specifications
Built-in data logger
MODBUS RS485 input / output
Periodic data push to Machine Saver Web Portal
SMS text message and e-mail notification for alarms
LTE Modem
Dual antennas for all LTE frequencies
3G HSPA+ fallback
FCC Approved radio
Dual RS485 (One master and one slave)
Dual RS232
Two high current digital outputs for driving remote relays
Status LED's: Red, Yellow, Green
Real-Time Clock with super-capacitor backup
Current limited, regulated 12VDC for VTB sensor power (6 typical)
Option to power over 250 VTB sensors on a single bus
Operating Voltage: 9 to 30VDC (standard)
90VAC to 240VAC (optional)
Less than 1 Watt power consumption
Protected against ElectrostaticDischarge (ESD) and Radio Frequency Interference (RFI)
Temperature Range: -30°C to +70°C (-22°F to +158°F)
Weatherproof NEMA4X (IP65) polycarbonate enclosure
140 mm × 105 mm × 65 mm (5.5"X4.3"X2.6")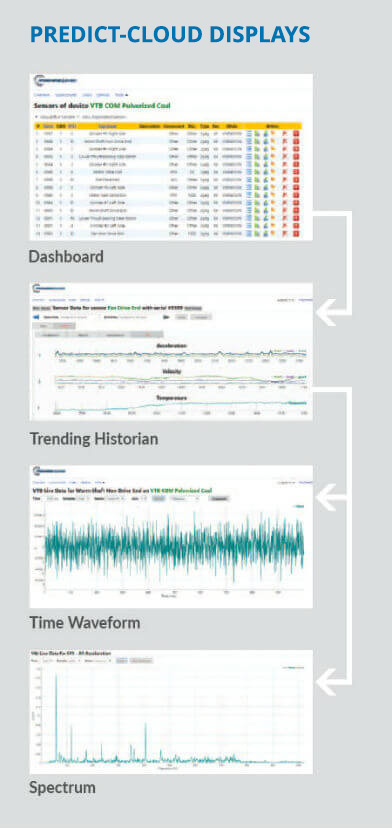 VTB RS485
NEMA-4X, IP65, CSA, CUL CL I DIV 2 GRPS A-D (DIV 1 OPTIONAL)

Single or Multiple Points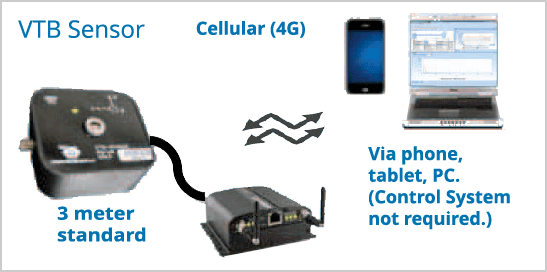 Remote Monitor & Analysis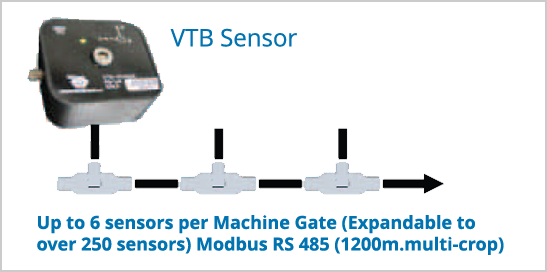 For more information on the Predict Plus – Remote Pump Monitoring System, call us at 888-405-0209 or contact PumpWorks online.