Your Pump Wants to Talk to You™
Predict-Plus is the only truly wireless and cloud connected machinery health monitor designed specifically for your rotating equipment needs.
PROACTIVE HEALTH MONITORING
FOR ROTATING EQUIPMENT
Vibration and temperature monitoring and trending
Cloud platform with configurable alert thresholds
Data visualization and storage for Temperature, RMS Vibration and Fast Fourier Transform (FFT)
Low-cost solution available for new and existing rotating equipment
Battery powered with 1 year rated life after which batteries can be replaced easily
Class 1 Division 1 Certified for hazardous locations
Communication within the United States using the Verizon, AT&T, or T-Mobile networks
Cellular communications in 107 different countries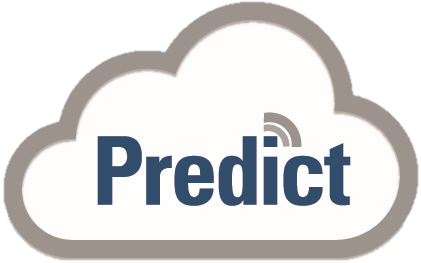 Click here to login & view the health of your equipment.
---
---
Always On

Predict-Plus samples for data and threshold violations automatically

Class 1, Division 1:

The Predict-Plus device is intrinsically safe.

Vibration

Overall RMS vibration alerts can be used to indicate a fault condition and FFT harmonic data can be used to diagnose the issue.

Temperature

Temperature is monitored via an integrated thermocouple to detect improper run conditions and failure modes.

Predict-Cloud

The Predict-Cloud is your equipment dashboard complete with proactive alerts and historic data trends, and reports to keep you informed of your assets.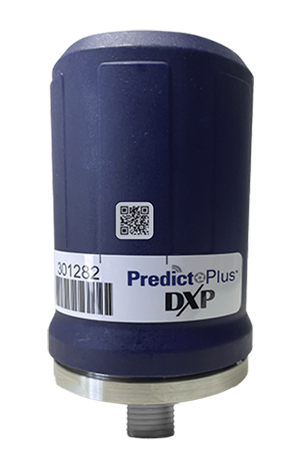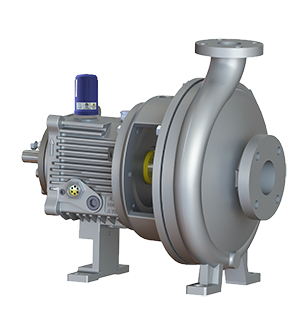 ---
Predict-Plus + Predict Cloud
The Predict-Cloud is your powerful equipment monitoring dashboard. By utilizing historic data trends and proactive threshold alerts, you can check on your assets at any time from your web browser or the Predict-Cloud mobile app. The Predict-Cloud enables you to be proactive regarding your equipment maintenance and avoid unnecessary downtime.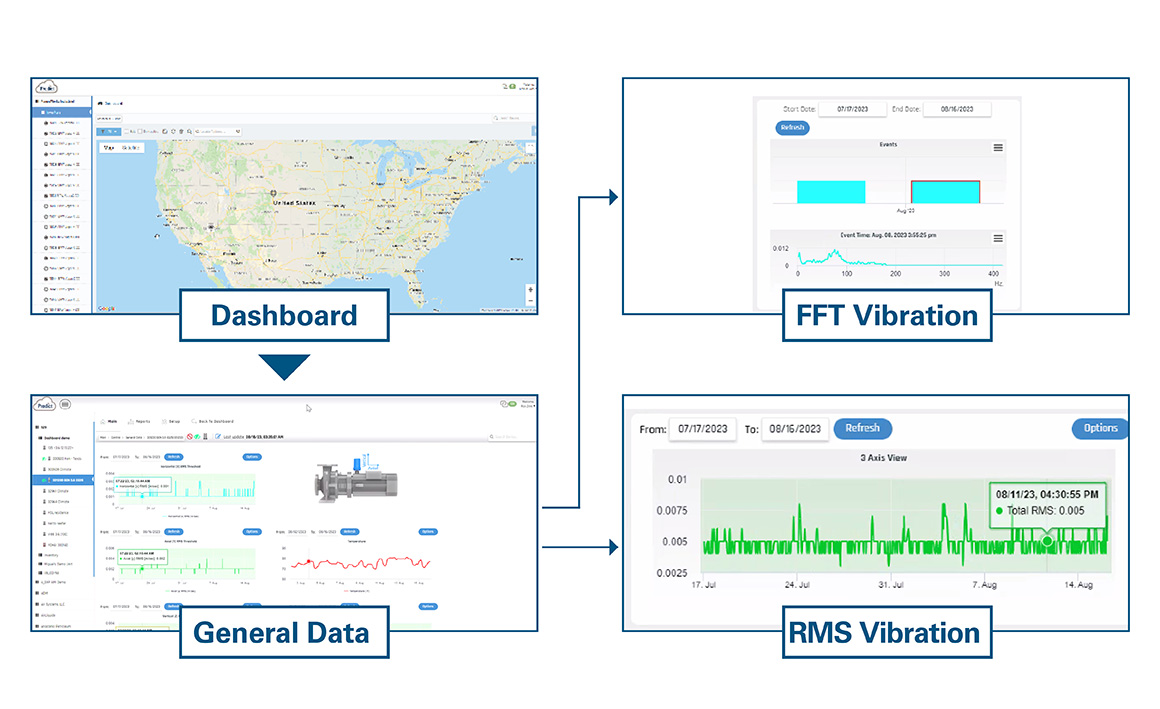 ---
Design
Footprint: 2.36" x 4.57" included threaded stud
Battery Voltage (3 AA): 4.5VDC
Mountable via integrated .48" NPT stud or with ¼"-20 tapped hole
EDGE Computing
Tri-axial vibration monitoring IPS
Temperature monitoring ±5°F
Real-time RPM calculation
Real-Time Axial, Vertical, and Horizontal RMS
Real-Time Axial, Vertical, and Horizontal FFT
Operational time monitoring
Notifications
RMS threshold cross alert
FFT frequency threshold cross alert
Operational time threshold cross alert
Temperature threshold cross alert
Low battery alert
Run hours alert
Communication
Within the US, the device can communicate over AT&T, T-Mobile, or Verizon 4G LTE depending on optimal service in the area.
Global chipset for communication in 107 countries without additional communications hardware.
Operation Modes
Battery (Low Power): 3 AA; Up to 4 samples per hour and 2 cloud upload times per day

Battery Life: 1 year in temperatures -40°F to +140°F
Batteries must be changed in an area free of ignitable concentrations
User Interface
Internet Browser; Microsoft Edge, Google Chrome, Mozilla Firefox, Apple Safari
Mobile App: Predict-Cloud on iOS and Android
Standards
Class I, Division I certified
IP66/NEMA 4X rated enclosure
RoHS Compliant
Environmental Conditions
Operating Temperature: -22°F to +158°F
Relative Humidity: 90%
Water & Dust Spray Resistant (IP66)
---
FAQ
For more information on the Predict-Plus – Remote Pump Monitoring System, contact your local DXP sales branch or DXP sales professional.