Your account, your product, your price. That was easy!
DXP's Customizable E-Commerce Solution that gives customers access to all their Rotating Equipment, Bearing and Power Transmission, Metal Working, Safety, and MRO Products.
Capabilities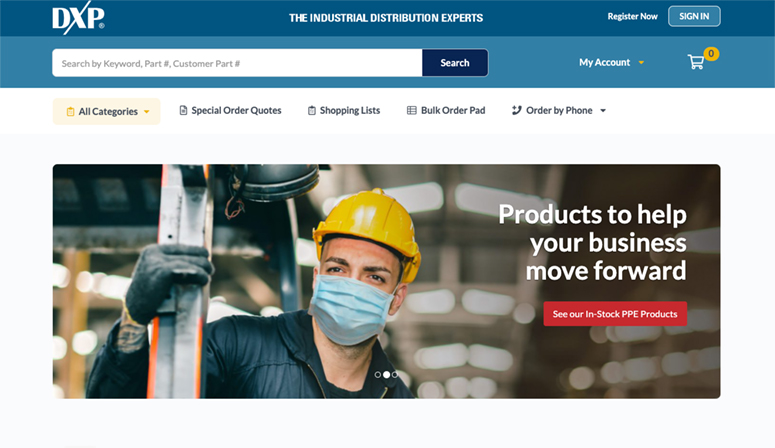 Customized Item Catalogs
Interactive Power BI reports allow you to filter and interact with your data
Access to product pricing
Place orders
Submit quotes and access quotes online
Check shipping status
Review previous orders
Budgets and Approval Workflows
Use the Request for Quote (RFQ) process to request a quote for items you cannot find in the online store or special spot buys.
Connect our catalog with your procurement system
Access all your critical business intelligence reports, customized reports, and dashboards on-demand. DXP Mobile App
eProcurement Solutions
Connect our product catalog with your procurement system (such as Ariba, Coupa, Jaggaer- formerly
SciQuest, SAP, Oracle, PeopleSoft Punchout, etc.)
Save time and increase transaction accuracy.
Punchout Catalog – Access to all our items directly from your procurement system
EDI and XML B2B (Business to Business) integration – exchange Purchase Orders, Order
Acknowledgments, Invoices, etc.
Mobile App
Bring all our inventory straight to the job site with the DXP mobile app! Now you have the freedom to
find and buy the supplies you need, whenever and wherever you need them.
Search our entire product catalog
Real-time product availability by location for all DXP and customer-owned inventory (COI) locations
Place orders from your phone
Track your purchases from placement to final delivery
Scan product barcodes with your phone camera for a faster search of our product inventory
Use the Quick Order Pad to scan and purchase multiple products