Why Web Procurement Solutions?
E-Commerce software helps companies digitize their processes, stay agile, and ultimately become data-driven powerhouses. A seamless web procurement solution is necessary to maintain transparency and consistency of inventory data, purchase orders, shipping, payment, and invoicing information.
DXP's Customizable E-Commerce Solution, SmartBuy®, gives customers access to all their Rotating Equipment, Bearing and Power Transmission, Metal Working, Safety, and MRO Products. Your account, your product, your price. That was easy!
Click here to download the SmartBuy Flyer.
E-Commerce Solution Features and Benefits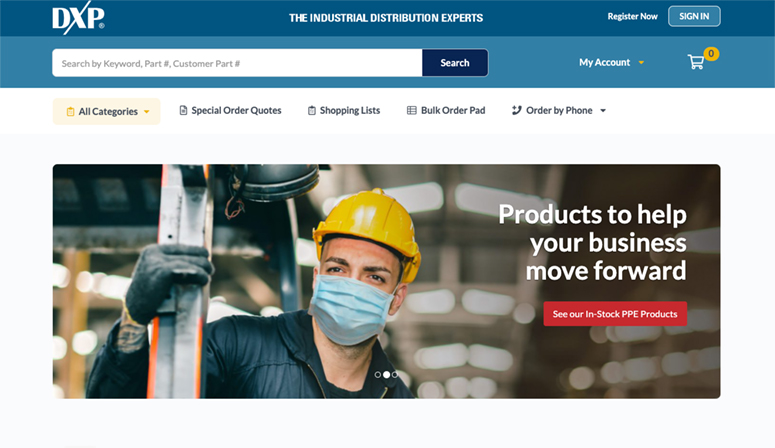 How can DXP's E-Commerce solution simplify your supply chain? SmartBuy makes finding, buying, and ordering the goods and services you need fast and easy. Users can easily submit and access quotes online, place orders, review previous orders, and check shipping status. Additional features and benefits include:
Customized item catalogs
Ability to connect our catalog with your procurement system
Access to product pricing, budgets, and approval workflows
Interactive Power BI reports that allow you to filter and interact with your data
Access to critical business intelligence reports, customized reports, and dashboards on-demand
Request for Quote (RFQ) process to request a quote for items you cannot find in the online store or spot purchasing
Other eProcurement Solutions
Emerging technologies in supply chain management make it easier for businesses to maintain relationships with suppliers, manufacturers, and distributors at each point in the procurement process. Companies rely on eProcurement software to facilitate their research, shopping, and purchasing processes. Save time and increase transaction accuracy with DXP's additional eProcurement solutions:
Connect our product catalog with your procurement system, such as Ariba, Coupa, Jaggaer (formerly SciQuest), SAP, Oracle, PeopleSoft PunchOut, etc.
PunchOut Catalog provides access to all our items directly from your procurement system, supporting cXML & OCI RoundTrip integrations.
EDI and XML B2B (Business to Business) integration allows users to exchange purchase orders, order acknowledgments, invoices, etc.
Introducing The DXP Mobile App
Bring all our inventory straight to the job site with the DXP mobile app! Now you have the freedom to find and buy the supplies you need, whenever and wherever you need them. In our user-friendly application, you'll have the following capabilities:
Quickly search our entire product catalog
Easily place orders from your smartphone and other mobile devices
View real-time product availability at all DXP and customer-owned inventory (COI) locations
Track your purchases from placement to final delivery
Scan product barcodes with your phone camera for a faster search of our product inventory
Use the Quick Order Pad to scan and purchase multiple products
Contact us today to learn more about DXP's supply chain solutions.