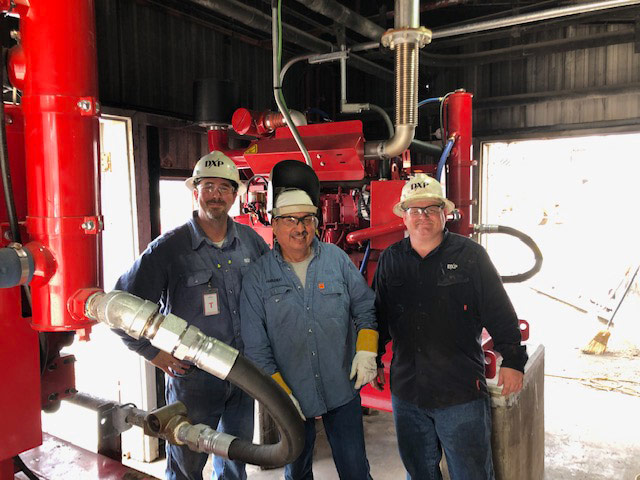 A customer in Freeport, TX was struggling with their Plant 1 Fire Water Diesels, as the Diesel Engines were originally installed in 1974 when the facility was built. One Engine was completely inoperable, and the second needed to be manually started. Either scenario is not suitable for Fire Service.
Both existing engines were being supplied Diesel by a single common 1000 Gallon Tank. DXP suggested replacing the old equipment with New Cummins Diesel Engines and install 2 New 500 Gallon Double Wall Diesel Tanks and all associated piping, ultimately bringing this installation up to current code requirements. The customer was relieved that DXP had the personnel and expertise as fire pump package manufacturers to get this project done right!
DXP Field Service Tech's removed all existing equipment, including the original diesel engines, driveshafts, fuel lines, water supply lines, diesel control panels, and the original diesel tank. Once removed, DXP installed the new equipment within the customer's existing Fire House, providing completely new systems except for the pumps. The DXP Field Service Technicians provided a professional attitude and installation, exceeding the overall expectations of the customer.
A special thanks to all our DXP Service Technicians, especially:
Rick Terry – Project Field Lead
Fernando Banda – Welder
Mike Pierce – Field Service Technician
Carlos Martinez – Not in Photo
Ozzie Galvan – Not in Photo