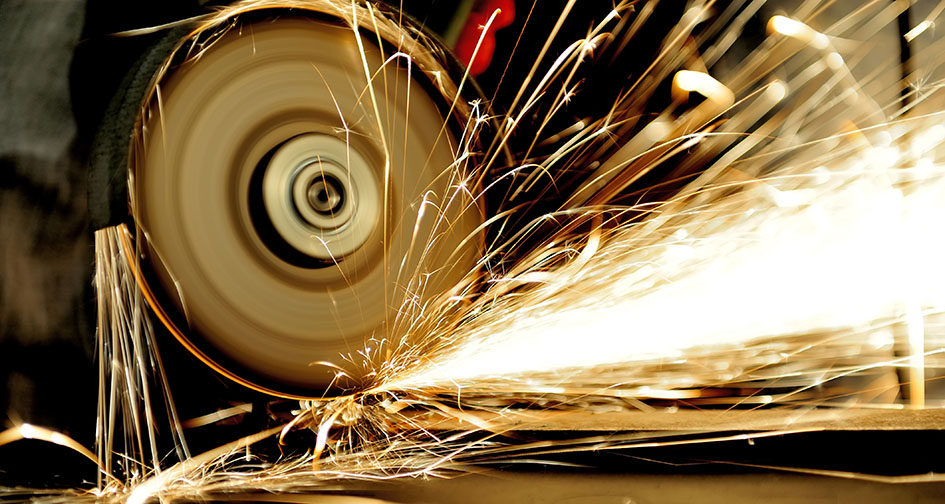 Where a saw uses a single layer of teeth to bite into a surface, grinders use abrasives with many fine grains that work together to cut. The material and needed finish will guide your choice of abrasive, but there are two basic types of abrasives used in grinding wheels: bonded and coated.
What is a Grinding Wheel?
A grinding wheel is made from fiberglass layers and abrasives bonded together. The bonded abrasives work as a grinding tool, allowing the operator to shape and refine materials. Grinding wheel uses include sharpening tools, getting metals ready for welding, and removing excess material.
Grinding Wheel Types
The shape and size of the wheel typically determine the grinding wheel's uses and type. Grinding wheel types include,
Straight grinding wheels – These are basic grinding wheels often found in home workshops where they are primarily used to sharpen tools.
Large diameter grinding wheels – are larger versions of straight grinding wheels. The wheel's large surface diameter makes them ideal for grinding round objects. The wheels are also used in the Oil and Thermal Spray Industry for OD grinding.
Grinding cup wheel – is primarily used for polishing concert and stone. However, depending on the size of the abrasive grinding wheel, it can also be used to remove adhesive and paint from materials.
Grinding dish wheel – Similar in appearance to a grinding cup wheel, these bonded abrasive wheels have a thinner edge that allows the tool to reach into narrow places a grinding cup wheel cannot access.
Segmented grinding wheel – These abrasive grinding wheels have segmented sections instead of a continuous rim. The segmented bonded abrasives allow you to easily remove larger amounts of material without damaging its surface.
Cutting face grinding wheel – is a precision tool that cuts through the material. Its best uses include shaping teeth on a saw, along with cutting tile and other materials.
When you are trying to decide on the type of grinding wheel, it's a good idea to consider the application. For example, you don't want to purchase a large diameter grinding wheel if you only want to sharpen your garden tools.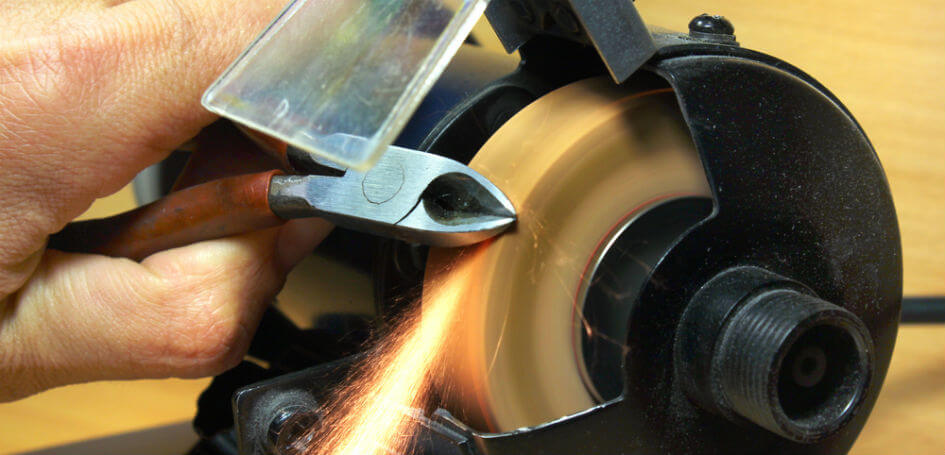 Bonded vs. Coated Abrasives
Grinding wheels are made from different types of abrasives. The type of abrasive helps determine the tool's best uses. The classification of abrasives includes bonded, coated, and non-woven grits.
Bonded abrasives use a binder to fuse the material into the wheel shape. It can limit the type of grit used, but it is an effective method. Grinding wheels with bonded abrasives are durable and capable of taking on heavy-duty tasks. Coated abrasives are also durable, but the process is a little different. Grinding wheels with coated abrasives have an extra layer. The grit adheres to a belt, disc, roll, or sheet.
You can also find grinding wheels with non-woven abrasives. These grinding wheels use three-dimensional abrasives typically bonded to nylon fibers. It gives you a flexible and durable surface, ideal for use in more delicate jobs like removing paint without scratching the surface.
Coated Abrasives in Grinding Wheels
When talking about abrasives, coated abrasive typically refer to layered grits and grains over a surface. For example, coated abrasives are commonly affixed to belts, sheets, discs, and rolls. The cutting grains layer on top of the foundation material. An especially common type of coated abrasive would be sandpaper.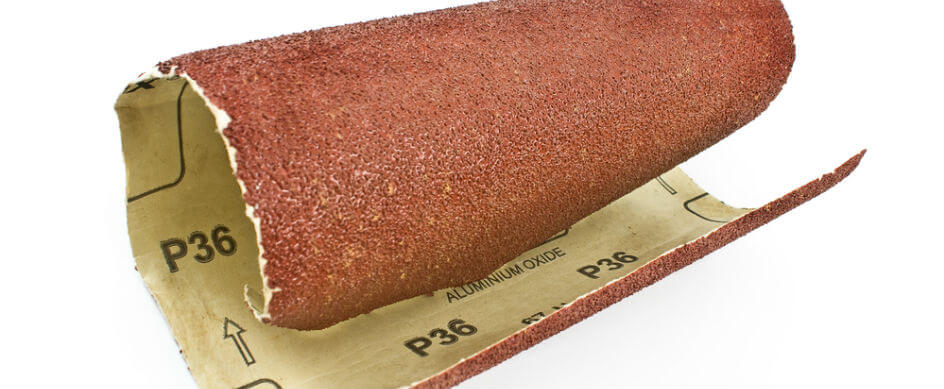 Bonded Abrasives in Grinding Wheels
With a grinding wheel, you will be using bonded abrasives. The grains are bonded together with a binding agent or resin to add support to the grinding surface while cutting. The type of grain, the spacing, and the bond material will determine what materials an abrasive can cut.
Check out the abrasive supplies on the DXP website for a broader selection and supplier list.
Common Types of Grinding Wheel Abrasive
Abrasives can be used to cut and finish a variety of materials ranging from high-carbon steel to soft bronze or even rubber. You need an abrasive that will cut through the materials you are working with. Here's a quick list of some of the most common types.
Aluminum Oxide – Most Common
If you're looking for an abrasive that most wheels are bonded with, you want aluminum oxide. It is used for everything from carbon to alloy steel, wrought iron, and bronze. This particular abrasive comes in a variety of styles that work with different materials. Be sure to look at the designation of the specific aluminum oxide abrasive and what it works best with.
Zirconia Alumina – Rough Grinding
When you want an abrasive for rough and tough cutting that lasts a long time, you need zirconia alumina. This abrasive uses a mix of aluminum oxide and zirconium oxide to create a durable surface that works great in cut-off applications for steel and steel alloys.
Silicon Carbide – Non-Ferrous Grinding
For a super sharp grinding surface, silicon carbide may be what you need. It works well on non-ferrous materials like rubber, stone, plastic, and glass, and also cuts through cast iron, soft bronze or aluminum. Expect to replace this abrasive more frequently than normal. It is very sharp, but can also be brittle, so it doesn't last as long as an aluminum oxide surface.
Ceramic Aluminum Oxide – Top of the Line
One feature that makes a good abrasive is the consistent break down of the grains to form a sharp cutting surface. With ceramic aluminum oxide, that breakdown is taken to the next level with a fracture rate which is controlled down to the sub-micron level.
After a period of use, the grains break down yet your surface remains just as sharp. Breaking the grains provides brand new cutting points. This makes ceramic aluminum oxide the abrasive of choice when working with the hardest metals and precision grinding projects.
DXP is Your Trusted Metalworking Abrasives Supplier
The abrasives on your grinding wheel determine the tool's best uses. You don't want to use a stiff abrasive on a delicate project.
Before you start your next cutting project, reach out to our team for expert advice on the abrasive type you need. Every abrasive comes in a variety of grades, so you might want to explore your options with our MRO distributors before setting up your grinding wheel.
Whether you have questions about grinding wheel uses or need to know which tool is right for your project, our experts are here to help.
Contact DXP today to learn more!