DXP is a proud distributor of Viking Pump. Our distribution centers carry stock – and our Rotating Equipment Experts can recommend the right pump for your application.*
*Territorial restrictions apply – contact a rotating equipment expert for additional details. pumps@dxpe.com

Products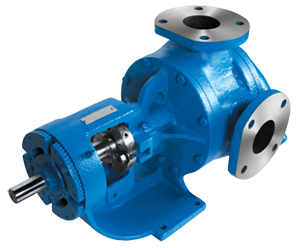 Rotary gear pumps are generally used to pump clean fluids that are not suitable for a centrifugal pump due to viscosity or control reasons. Rotary gear pumps do not handle solids well and generally need the viscosity of the fluid to lubricate the rotor and idler gears and bushing that otherwise would wear prematurely due to metal to metal contact. Rotary gear pumps use metallic and/or nonmetallic components depending on the application and are used in a wide range of markets and services.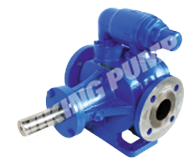 Vane pumps operate using self-adjusting vanes in the rotor that maintain close clearances with the stator. Vane pumps are self-priming and also have excellent run dry capability when using non-metallic vanes. Vane pumps are used in a wide range of oil & gas, chemical, marine, power and several other general industrial applications and markets and are available in both sealed and sealless designs.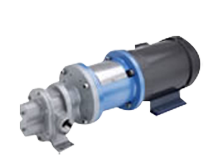 Sealless refers to the absence of a dynamic seal where the pump shaft penetrates the pump casing. Sealless pumps are either the magnetically driven or canned motor designs. Hose pump designs are also inherently sealless. Sealless pumps are used for various reasons, but mostly when pumping volatile or toxic liquids where any amount of leakage cannot be tolerated.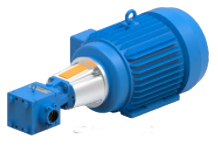 Viking Pump's external gear GB-410 Series™ and GB-414 Series™ products offer a robust and reliable pumping solution, engineered specifically for the rigorous application conditions for triethylene glycol (TEG) natural gas dehydration systems.
Typical Pump Types & Solutions
DXP is your source for Viking Pump's Internal gear pumps and external gear pumps that provide pumping solutions to a variety of liquid applications with optional seal types and industry needs in mind. From industrial pumps to hygienic pumps, there is a solution for you.
Check out these typical liquid pump solutions :
Ammonia pump
Chocolate transfer pump
API pump
Asphalt pump
Roofing tar pump
Vegetable oil pump
Lubrication pump
Glycerol pump
Oil pipeline pump
High-pressure chemical pumps
Peanut butter pumps
Paint pumps
Molasses pump
Thin liquid pumps
Natural gas dehydration pump
Glycol gas dehydration pumps
Triethylene glycol (TEG) natural gas dehydration pump systems

Parts & Service
DXP stocks Viking Pumps and pump parts in our strategically located Distribution network. Our product experts can recommend the right product for your application.
With Tier I, Tier II, and Tier III repair centers located throughout the United States, we can repair or service your Viking Pumps 24/7.