Pump technology is rapidly changing, as materials engineering and design innovations translate into real-world applications. At DXP we offer our customers access to the latest technical solutions. In that tradition, we are proud to introduce the PumpWorks PWA-SL sealless pump, a revolutionary new sealless pump design that delivers reliable, efficient performance in any application.
How The PWA-SL Works
At the heart of the PWA-SL's innovative design are a compact sealless cartridge design and a new, PEEK and long-strand carbon fiber composite containment shell. The shell prevents eddy currents from forming in process fluids eliminating heat generation and improving efficiency over other designs.
The PWA-SL's design is loaded with features that make it easy to maintain, inexpensive to operate, and reliable over long periods. Its most beneficial features include the following.
Interchangeable
Because the PWA-SL complies with ANSI/ASME B73.3 standards, it can directly replace other class-compliant pumps without requiring additional mechanical seals or seal support systems.
The pump uses the same casing as other PumpWorks PWA pumps, allowing the PWA-SL to be swapped with an existing PWA pump by removing the back pull-out assembly and leaving the old casing in place.
Zero Leaks
The PWA-SL's innovative cartridge design delivers reliable, zero-leak performance.
Reliably Low Maintenance
The PWA-SL's cartridge is designed to minimize centrifugal pump maintenance requirements over the life of the pump. The fluid chamber O-rings are static and never wear out.  The cartridge's magnetic coupling drives the impeller without contact and decouples without risk of damage in the event the impeller gets jammed. And the magnets are encased in a stainless steel sleeve to protect them from corrosion and wear.
Cool Operation
The PWA-SL features the patented, new PumpWorks GEN 2 Power Frame, designed for even greater reliability and efficiency. In addition to its ability to operate with no oil maintenance for up to 5 years, the GEN 2 Power Frame features 25% more cooling surface than its predecessor, the PWA GEN 1. That means low bearing temperatures and increased MTBR/F.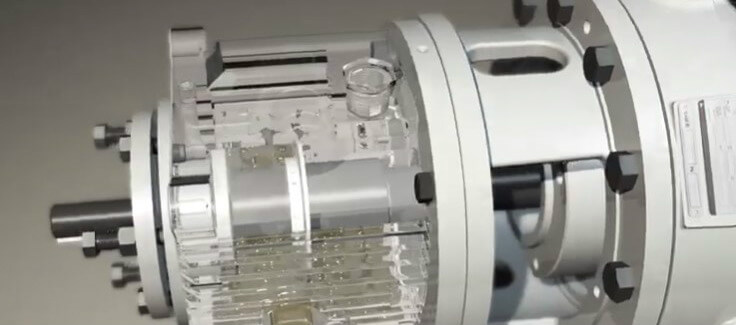 Sealless Pump Applications
The PWA-SL is suitable for a broad range of applications, with a max operating temperature of 300°F (149°C) and a max working pressure of 285 PSI. The pump can be customized in several ways, such as a casing drain and bearing options. The PWA-SL can also be equipped with Predict Plus, a wireless remote pump monitoring system that alerts operators to unexpected vibrations, temperatures, and other operating anomalies.
Ask DXP About the PWA-SL Sealless Pump Today
DXP is proud to offer PumpWorks products and the services our customers need to select, install, and operate industrial centrifugal pumps. Our specialists are ready to answer your questions about the PWA-SL and other pump designs.
To learn more, reach out to DXP today.